Building a wooden box to be used as storage for firewood kindling is a project that can be fun and practical. This simple, butt-jointed wood box can hold a good amount of paper or kindling for the fireplace or it can be customized to hold larger logs. You can build this box practically for free with the materials laying around your workshop; I used some old barn boards that were milled to 3/4".
Material List:
If ole barn boards are not available, use one piece of 3/4" hardwood plywood, 2' x 8', plus matching edging material
Wood glue, plus 1" and 1 1/2" Woodscrews
Two hinges, one support hinge, brass corners, and four wheels.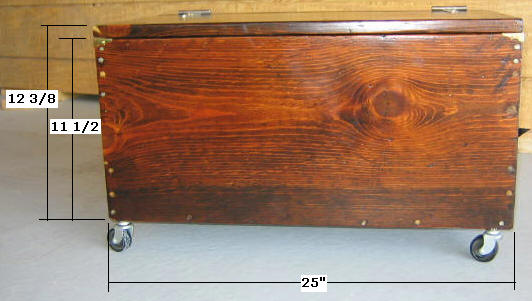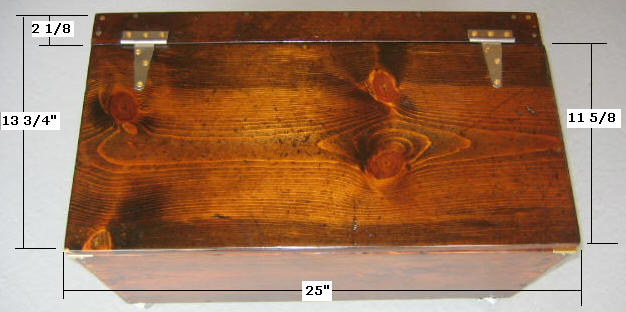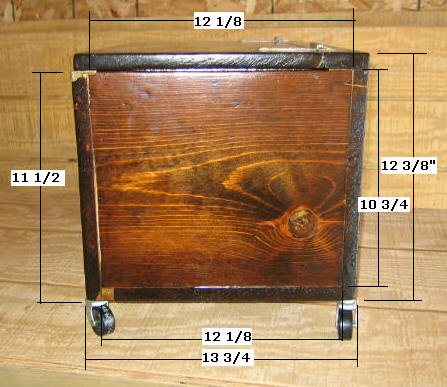 Step 1, Cut the Base Pieces - Select plywood; cut the front and back panels @ 11 1/2 x 25.
Cut the bottom panel @ 12 1/8" x 25" long.
Cut two side panels @ 12 1/8" x 10 3/4" high.
Step 2, Assemble the Base - Select the bottom panel and lay it on a flat surface; Select the front, back, and two side panels; dry fit all five pieces.
1., With wood glue and 1 1/2" woodscrews, attach the front and back to the side panels (pre-drill and countersink the holes).
2. Attach all sides to the bottom panel.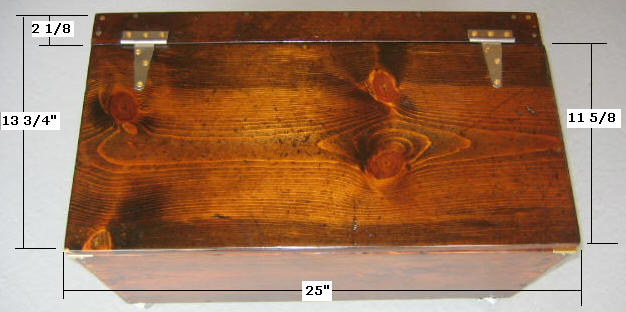 Step 3, Cut the Top - Select the plywood; cut one top piece: 13 3/4 x 25"; Select the top and rip a piece @ 2 1/8" that will become a stationary piece for attaching the hinges. Attach the 2 1/8" support piece to the back edge and the two side panels as pictured above.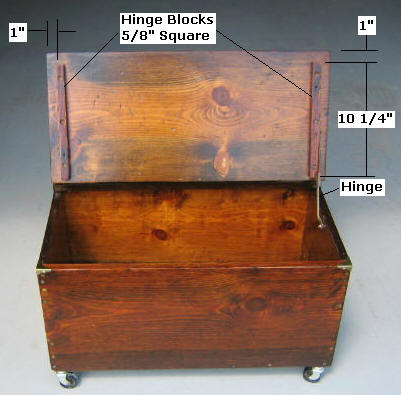 Step 4, Cut/Attach Hinge Blocks - Select a piece of 5/8" square hardwood; cut two pieces to 10 1/4" each. Attach the blocks per the specs listed above, one inch from each edge; use 1" screws.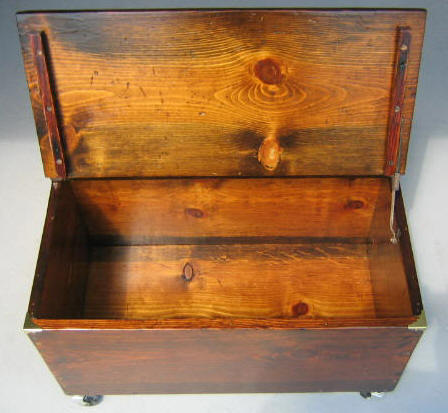 Step 5, Complete Box- Apply edging material, fill all holes with filler, sand, and apply stain and poly. Once the poly has cured, apply pads or wheels, brass corners, two lid hinges, and one support hinge.
If you would be interested in other chest plans, click here!
More FREE Plans!
Picnic Table Plans
Gun Rack Plans
Bookcase Plans
Bird Feeder
Boot Rack
Dog House
Firewood Rack