| | |
| --- | --- |
| Build the circular saw ripping guide shown on the right with just a few tools using scraps laying around your shop! | Click on image for larger view |
This circular saw cutting guide is so easy to make and so easy and accurate to use, you will be kicking yourself for not thinking of doing this sooner!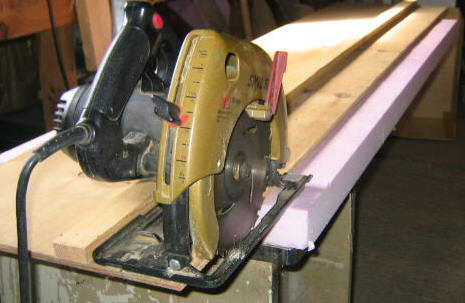 Step 1 - Obtain a 12-inch wide (or as needed) piece of plywood (1/4" to 1/2" ) that is the desired length of the type of cuts you will make. If you are ripping 8-foot plywood, then make the guide 8-feet long. You may wish to construct several guides of different lengths.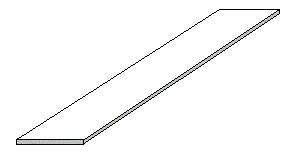 Step 2 - Obtain another 2-inch wide board or strip of plywood that is thin enough so that when your circular saw rests up against it the body of the saw will clear over it. This board will be the guide. Fasten the strip onto the plywood so that the blade is about 1 inch in from the edge when the saw rests up against this guide board.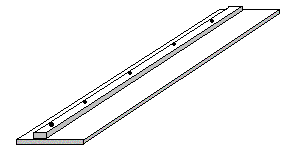 Step 3 - Rip down your plywood with the saw resting against the guide board.
To use your guide, simply draw a line on the board you are cutting. Clamp the guide on with the edge of the guide lined up with the drawn line. By default, your cut will match the line since the saw will always cut flush with the edge. Make sure to use the same type replacement blade since different blades have slightly different cuts. No measuring to place the guide, just to draw the line and clamp!
Hope This Makes Your Day! Try the other free plans on this site for a treasure chest, sawhorses, as well as more to come soon.