Building an Entryway Storage Bench that can also be used in an entry way, a mud room, or even as a Bedroom Storage Bench can be fun and practical. This simple, butt-jointed Blanket Chest can hold blankets or a good number of gloves, hats, scarves, etc. You can build this wood storage bench from one, 3/4" x 4' x 8' plywood panel plus a few other necessities.
Material List:
Note: For Outdoor use, use only cedar or treated lumber.
One piece of 3/4" hardwood plywood, 4' x 8', plus matching edging material.
One piece of 1/2" x 2' x 4' plywood for the bottom panel.
One piece of 1 x 3 x 48" hardwood for the top Cross piece.
1 5/8" Woodscrews.
A set of Hinges, one, interior lid support, wood plugs and/or wood filler.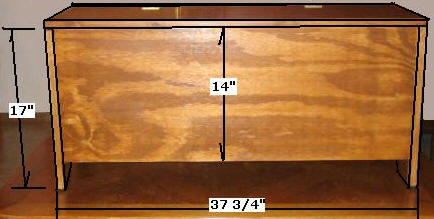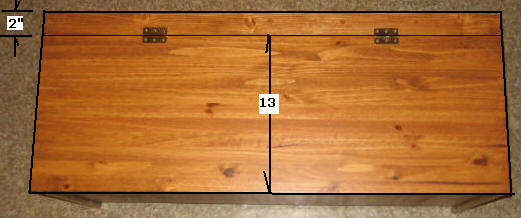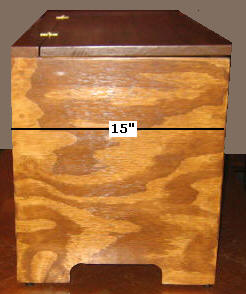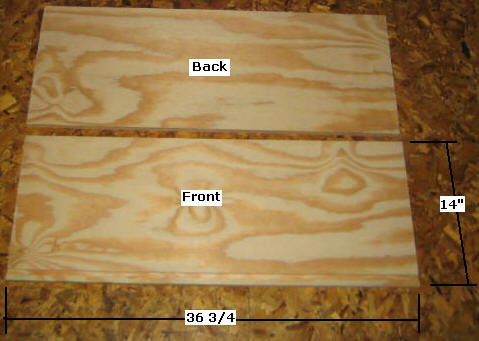 Step 1, Cut the Blanket Chest Pieces - A. Select 3/4" x 48" x 96" plywood panel; using your Table Saw with Extension Wings or using your Circular Saw Cutting Guide, crosscut the panel to 36 3/4". Using your table saw, rip it to two pieces @ 14" for the Front and Back Base Panels.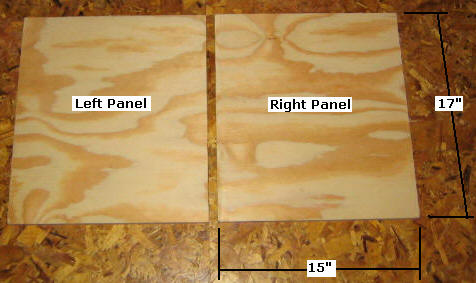 B. Select 3/4" plywood panel; crosscut the panel to 15"; rip it to two pieces @ 17".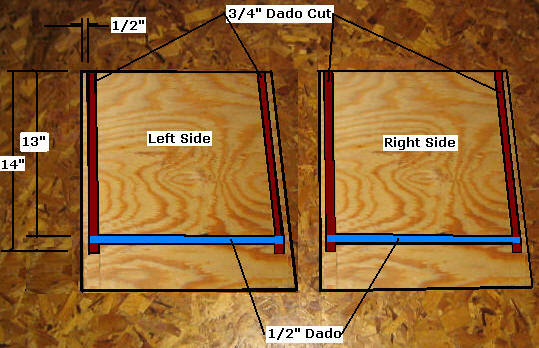 C. Select the Left/Right side panels; Set the dado blades to 3/4" wide by 1/8" deep; set the fence to 1/2"; at each of the four edges beginning at the top edge, make the four passes 14" down as shown above to receive the Front and Back Panels.
D. Select the two side panels; set your router with a 1/2" straight gouge bit; set it for 1/4" deep cut; set the guide so the top edge of the cut is 13" down from the top edge; Make the router pass as indicated by the blue lines above to receive the Bottom Panel.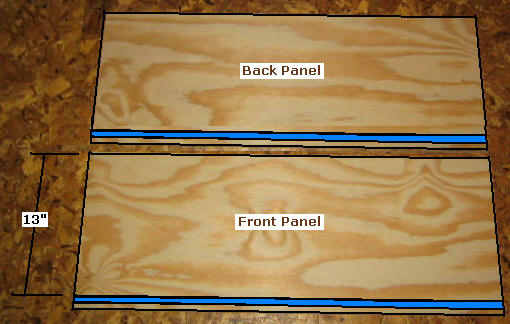 E. Select the Front and Back Panels and your router already set with the 1/2" bit and 1/4" depth, measure down the same 13" and router the bottom edge as shown above.

F. Select the 1/2" x 24" x 48" plywood; crosscut this bottom panel to 37 1/4"; rip this panel to 13 1/8".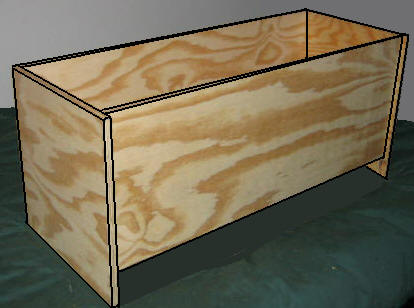 G. Dry fit the base pieces.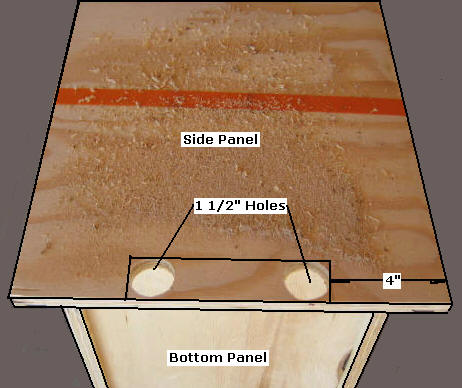 H. Select two Side pieces to cut the bottom vents; on the bottom edge measure in 4" from each side; measure up 1 1/2" to make a rectangle; use a 1 1/2" paddle bit and drill two holes as shown above; with a saber saw, cut along the top line and the bottom side lines. Perform this process to both side panels.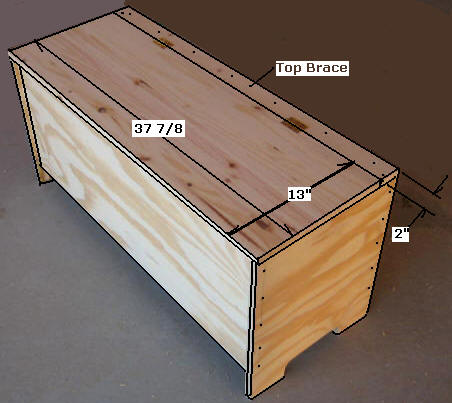 I. Select the 1 x 3 x 48" hardwood; this will be used as the top brace; cross cut it to 37 78"; rip it to 2".
J. Select the 3/4" plywood, cut the lid to: 13" x 37 7/8".
Step 2, Assemble the Blanket Chest - A. Select the Front, Back, Bottom, and two Side panels; pre-drill/counter sink five holes along each edge, and connect the side panels with 1 5/8" screws as shown above.
B. Select the Top Brace and attach it as shown above.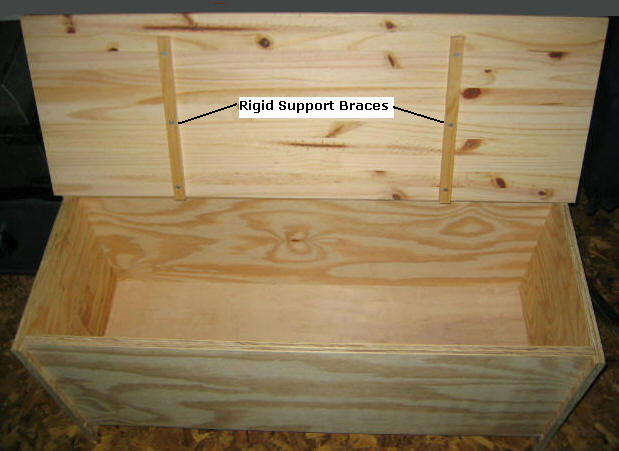 C. Select a piece of 1 x 1 square hardwood; cut two pieces @ 11 1/2" for Rigid Support Braces and connect them as shown above.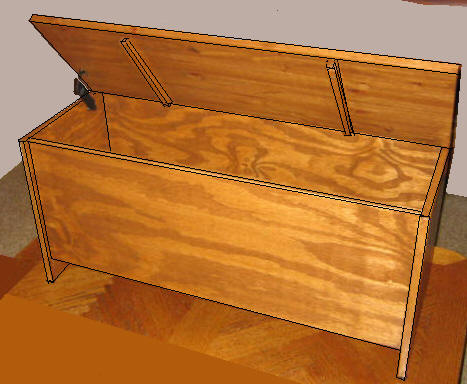 D. Select and attach the hinges. Select the interior lid support bracket and attach it per the given instructions.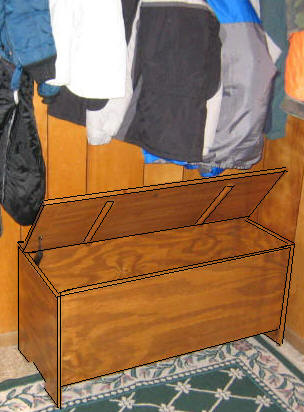 Step 3, Complete Chest- Apply edging material, fill all holes with wood plugs and/or filler, sand, and apply stain and poly. Once the poly has cured, apply foot pads.
If you would be interested in other FREE chest plans, click here!